Songs From A Little Beach Town
Somewhere in Texas, there's a little beach town where Keith Sykes finds himself once a year, in the wintertime. He holes up for a month, with the salty air and his guitar, unloading his mind of all the half-written lyrical lines and lonely guitar licks a year can bring.
He writes all kinds of songs when he's there, as Keith Sykes is wont to do – after all, more than 100 of his songs have been recorded by artists as diverse as Rosanne Cash and George Thorogood – but when you find yourself in a little beach town, there's a certain stripe of song you just can't help but write: beach songs.
And so, this is the story of how a former member of Jimmy Buffet's Coral Reefer Band came to write a sublime, transporting EP called Songs From A Little Beach Town.
"I've always had a natural tie to a certain kind of music anyway, even before I was a Coral Reefer," Sykes says. "Because of my love of the islands, the little beach towns, and the people I meet when I'm in that environment."
The first single from the EP, "Come As You Are Beach Bar," is the story of some of those people. It came to life out of a snippet of guitar, Sykes says. "That's what I had first, just a little guitar thing that I liked."
Next thing he knew, he was waxing on the tale of Captain Bobby and a dive bar whose characters he paints so vividly you can almost feel yourself sitting next to them at the bar, salt spray and stale beer hanging in the air.
There's a different feel to this song – Sykes is playful in his phrasing, almost spoken word – an indication that after more than 40 years in the business, Keith Sykes isn't slowing down or taking it easy. He's looking for new sounds, new ideas and new challenges. He's risen to this one with splendid result.
Songs From A Little Beach Town is a perfect snapshot: sublime and sunny, the songs almost float. The title track "Little Beach Town," "The Best Day" and the simple, sincere love song "I Pick You" round out the track list. Sykes recorded the EP in Nashville with engineer/producer Brent Maher (The Judds, Kenny Rogers, Willie Nelson) and a roster of some of the city's best backing him up: Nir Z. (drums and percussion), Willie Weeks (bass), Bobby Ogden (piano and organ), Brent Mason (electric guitar) and Thom Flora (backing vocals).
With this EP, Sykes has dropped his suitcases in the trop rock world – fans will surely hope that this visit isn't over too soon. Songs From A Little Beach Town will release on April 22, 2016 via KSM Entertainment.
Stream "Come As You Are Beach Bar," the lead single from Songs From A Little Beach Town!
Lyrics
Advanced Medication For The Blues

Keith Sykes' ninth solo album, Advanced Medication For The Blues, is a self-produced rock record and the debut release for Memphis-based Syren Records.
Advanced Medication For The Blues rocks full tilt from the opening track and never lets up. Highlights include "I Know An Angel," a loving testament to youthful innocence he wrote for his grandchild, Kelsey; "The Whole 9 Yards," a modern-day outlaw tale; and "One World," which takes a sitar-like riff and infuses it with a swamp groove worthy of Dire Straits. The CD was produced, recorded and mixed at The Woodshed–Memphis by Keith Sykes.
Check out what the media has to say about Keith Sykes and Advanced Medication for the Blues:
• Keith is an unsung hero of Memphis' singer-songwriter tradition. Check out the despairing "One Up One Down" for a passionate example of his craft. – G. Brown/The Denver Post
• Keith Sykes makes records far too infrequently; a fine collection of tracks. – Jason Ankeny/All-Music Guide
• Six years after his last album, roots rocker Sykes returns with a barn burner. Sykes writes like a maniac unleashed. – Alanna Nash/ Entertainment Weekly
• Jimmy Buffett, Jerry Jeff Walker and John Prine have all covered his songs. He comes up with a winner in "I Know an Angel." – Bill Ellis/The Commercial Appeal
• Part swamp, part blues, and certainly pop induced, he offers well-crafted, guitar-driven three-minute pop snapshots. What separates Sykes from the herd are catchy melodies coated with lyrics that are self-deprecating and full of wit. These are not philosophical musings of the big picture, but pinpricks of the local Joe just trying to make life work. – Dirty Linen
Bucksnort Blues
MUSIC: Sykes brings songwriting pals to Hot Springs
By JACK W. HILL SP
ECIAL TO THE DEMOCRAT-GAZETTE Thursday, May 12, 2011
LITTLE ROCK — Keith Sykes, one of Memphis' best-known music veterans, is on the line from Texas and wonders if it can be true – what he has heard about the road being closed from Memphis to Little Rock.
Of course, much can change in the week before he's scheduled for another of his weekend showcases of songwriters in Hot Springs.
The featured songwriters this year will be Roger Cook, Buzz Cason, Jed Zimmerman, Grace Askew, Delta Joe Sanders and Shannon Boshears. Sykes and the other songwriters traditionally sit in a semicircle and take turns singing their songs, accompanied by one another, or at least by the ones who know each other's songs.
Sykes is best known for co-writing "Volcano," a hit for Jimmy Buffett, and other songs recorded by John Prine, The Judds, Jerry Jeff Walker,George Thorogood and others, and for his own songs on albums that include I'm Not Strange, I'm Just Like You and It Don't Hurt to Flirt.
Of the participating songwriters, the British-born Cook wrote a song that became one of the world's best-known commercial jingles: "I'd Like to Teach the World to Sing," along with "Long Cool Woman (in a Black Dress)," a hit for The Hollies; "I Believe in You," a Don Williams hit; "Here Comes That Rainy Day Feeling Again" and "You've Got Your Troubles," both hits for The Fortunes; and "My Baby Loves Lovin'," a hit by White Plains.
Cason wrote Carl Carlton's "Everlasting Love" and has sung backing vocals for Roy Orbison, Elvis Presley, Kris Kristofferson, Conway Twitty and Buffett.
Zimmerman, Askew and Sanders are part of the Memphis singer-songwriter scene and Boshears is one of the best-known Arkansas bluesrock singer-songwriters.
"Everything else is going to hell in a handbasket," Sykes notes, referring to the weather and perhaps other current events. "But things are pretty good right now for me. I'm in Port Aransas Texas, where I go to work on songs, sort of a retreat, for solitude and so on. I'm getting pretty much a song a day written, taken from snippets of stuff I write all year long, things I've gathered together.
"So I'm sort of working Monday through Friday and then take the weekends off, so it's been good. I've got enough songs now for a traditional songwriter album, but it's time to find a fresh sound for those songs."
Sykes has been visiting Hot Springs for most of the past two decades, first to celebrate the birthday of his wife, Jerene and to also tie in some time when the horsesare running at Oaklawn Park. But this year he changed the schedule, moving his gathering of himself and like-minded singer-songwriters about a month, into mid-May.
"We got a lot of positive feedback last year when we mentioned we wanted to move it," Sykes explains. "A lot of our fans were not even going to the track, since we had so much going on in the hotel. Plus the old weekend was also the time of my wife's birthday, along with the big celebration of Jerry Jeff [Walker]'s birthday in Austin, Texas, and I hated to miss that.
The event got started through Sykes' friendship with Rusty Mathis, general manager of Ben E. Keith Food Service Distributors. Mathis had formerly been the manager of the now-defunct Sawmill, a legendary watering hole, restaurant and music venue in The Spa City's old train depot.
The silent auction, whichwill feature music-related memorabilia and other donated treasures, is a fundraiser with proceeds going to the Tim Mathis Memorial Scholarship Fund. Tim Mathis, son of Rusty Mathis, was killed in a car wreck.
Sykes, who earlier this year was part of two events – a cruise and a festival – hosted by his pal, singer-songwriter Larry Joe Taylor, is finishing up a new blues album, which he expects will be released after the Hot Springs weekend. It will be his first digital downloadonly release, at least for a time before a traditional CD release.
"I wrote all but one of the songs and the one I didn't write is called 'Bucksnort Blues,' the title cut, and it was written by Jed Zimmerman, who will be part of the Hot Springs weekend," he says. "And no, he's not related to that Zimmerman fellow from Minnesota, who goes by that name, Bob Dylan."
Track Listing:
Don't Count Us Out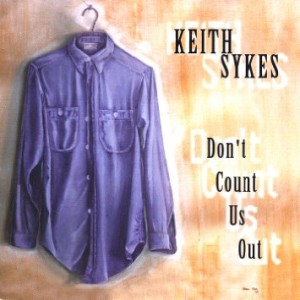 "Don't Count Us Out" is OUT!!!!
Don't Count Us Out showcases not only Keith's sharply honed talents, but those of some of his dearest and most accomplished friends as well. This latest work provides the listening audience with a clean break in style from his last great work on Advanced Medication For The Blues. While 'Advanced Medication' rocked the house from its opening track, Don't Count Us Out shows an entirely different side of Sykes with his best songwriting to date. More roots-oriented than his last record, this back-to-basics production style is Americana-friendly, and spotlights some fine finger-picking, rockin' ditties, and downright contagious grooves.
There are several incredible duets, each offering something truly distinct. "Lavender Blue" and "It's Just You" feature Iris Dement and are just dripping with a refreshing old-style harmony that will leave you hankering for more. Other friends of Keith's who share the microphone include: John Prine "Everybody Wants To Feel Like You;" Rodney Crowell "Talking To A Stranger;" and Susan Marshall "Why Do You Treat Him Like That?"
If the list of guest vocalists doesn't do it for you, then guest musicians Teenie Hodges, Howard Grimes, Todd Snider, Fred Knobloch or Larry Crane will give you goose bumps for sure (if not have someone check your pulse right away)!
The record is truly an easy-listening, feel good album that will lift your spirits with songs like "She Will" and "Sally Got Jack" and cut straight through to your soul with the heartfelt ballad "Broken Home." "Broken Home," an autobiographical song first debuted at Keith's Songwriters' Showcase on Beale Street, has been his most requested song since he wrote it. The record even adds a twist with its comical ballad "Sweet Emily" (co-written with Syren's co-owner, Kelcy Warren) about a man who has had the unfortunate fate of leaving this earth without his true love and sadly realizes that she must actually die before they shall meet again.
In addition to the fine music on the album, we're also very proud to feature the artistic work of Susanna Clark on the CD cover. The piece is one that Susanna had drawn back in 1971 of Guy's old blue denim shirt. Keith has always loved it and was thrilled when Susanna agreed to let him use it for the cover.
Go get a copy for yourself and let us know what you think…
…Sykes' lyrical style is laidback and thoughtful and his arrangements are always clever and varied. He can rock hard or do ballads with the best and there's not a dead spot on the CD. He's a skilled craftsman on vocals, guitar and behind the control panel. I've reviewed albums for a long time and I don't think I have ever heard a better CD than this one.
~B. Burnett/Bluespeak Magazine For the complete article click here.

KEITH RYAN CARTWRIGHT, writer for the Tennessean says,
"Don't Ever Count Him Out"
Country Morning Music
First, we were in Santa Cruz, because that's  where we wanted to be..I think it was the weekend that Todd Snider turned 40 . Anyway, it was at a motel  near the water. Keith  Sykes walked into motel courtyard in the afternoon, holding a guitar and a beer and ready to put both to good use. And then we all sat like children around some master storyteller, because we were children around some master storyteller. Most of the stories,we already knew by  heart: Coast Of Marseilles" Volcano", "You Got Gold", "Long Monday" and a bunch of others.If it had jest been the songs, that would have been enough. But it was also the  way Sykes' fingers flew around  the guitar  neck, and the way he sang. Every note had the intent and certainty of decades, and yet his voice was stripped of all age and weather. There were dolphins swimming and playing by the shore. Girls, too. But the best show in town was Sykes at a dirty old picnic table. Where the soul of man never dies, within arm's  reach of a bag of Cheetos.
Later, safe back out of earshot in Nashville, Snider kept talking about Keith Sykes. How he'd sought Sykes out, traveled 700 miles to meet him and wound up sleeping on his couch. How Sykes surveyed a young man's young songs and heard an open heart in which to believe. How Sykes introduced him to Jimmy Buffett and John Prine, Guy Clark and Rodney Crowell and Jerry Jeff Walker. These were the songwriters who turned to Sykes when they wanted something special. When the heavyweights want your help, you're a heavyweight. Sykes approval was validation, his lessons were integral and his songs… heavens.
And so finally, we were in Memphis making a field recording. I fumbled with microphones while Sykes and Snider moved the bird out of the living room, and Jerene Sykes closed the bedroom door and tried to keep the dogs quite up there. And then Keith sat down on the his couch and played his songs. There were no lyric sheets . Sometimes he closed his eyes, and sometimes he looked right at us, and sometimes he looked right through us. The next afternoon, we were done, just in time for the big bonfire.
I worried on the way home to Nashville that people might need the visual,  that they'd need to see Sykes on the couch, and that they'd need to watch the casual geniuses he calls his hands move atop that old Martin. I shouldn't have worried . Listen to his music and you'll see the room. You'll see Snider, among the most revered songwriters of this generation, watching a hero of his do things no one else can do. You'll see the faces of those who came in the evening to listen to the playbacks and looked around at the couch and place where the bird used to be as if to say " This Happened here?"
-Peter Cooper, Nashville, TN

Tracks:
A long Monday
A Very Short Time
Country Morning Music
Everybody Wants To Be Like You
One True Love
Rainin' (In My Soul)
She Love To Ride Horses
Shut Up And Talk To Me
That Ol' Songwriter
The Coast of Marseilles
The Last Line
Volcano
You Got Gold
Retrospective
Sykes Retrospective Shows Why His Admirers Are Legion
If you ever wondered what the fuss was all about with Memphis songwriting institution Keith Sykes, the 20-track compilation Retrospective Vol. 1 provides the best answer around.
Revered in country music circles, Kentucky-born/Memphis-bred Sykes has had his music recorded by the likes of Rosanne Cash, Rodney Crowell, the Judds, John Prine and Jimmy Buffett, to name but a few. Listening to these vintage tracks, which span three decades, one can see how Sykes's sweet-tempered way with a tune would cast such a wide net of admirers.
The anthology opens with several selections from his two classic Vanguard albums, 1970's eponymous Keith Sykes and the 1972 follow-up 1-2-3. Folks will immediately home in on the singing, almost unnaturally youthful and bright compared to the warm, coaxing tones his voice has taken on over the years. Yet, like all of Sykes's best work, the tunes sing themselves, especially the nostalgic "Kentucky Lake" and the moving, Dylan-esque "Daddy Raised Hell."
You also get a near glam workout of "Rainin' (In My Soul)," the song that later opened Rosanne Cash's modern country landmark Seven Year Ache; a poignant version of "The Coast of Marseilles," which found its way on Son of a Son of a Sailor by onetime employer Buffett; and the rocker, "B.I.G.T.I.M.E.," covered by both Mitch Ryder and George Thorogood.
Some of the production on the '80s material sounds dated, though the personality of such material as the topical "Trash" and the Bob Seger-worthy "Think About Love" nonetheless shines through. The archival-focused collection fittingly closes with tracks from It's About Time, the early '90s album Sykes made for John Prine's Oh Boy label.
Fans will inevitably find some favorites missing from the "best-of" list, including the Buffett anthem "Volcano" and the Prine co-write "You Got Gold." I guess that's why this disc is dubbed Vol. 1.
– Bill Ellis – Memphis Commercial Appeal 
20 Most Requested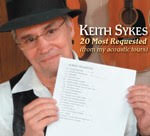 Track Listing: